Linked Data Virtualization
Linked Data Driven Data Virtualization


for Web-scale Integration
Orri Erling
Program Manager, Virtuoso
Situation Analysis
Agility via ad hoc data access has prevailed throughout the history of IT.
Data, heterogeneity are growing exponentially, across Intranets, Extranets, and the Internet
Processing windows remain static (we still only have 24 hrs. in a day for personal and professional activities)
Individual and Enterprise Agility remains totally dependent on data access, manipulation, and dissemination
Data remains dirty and its context remains necessary for extracting meaning.
Data Virtualization (in the form of heterogeneous Linked Data Spaces) remains the only viable way forward.
What is Linked Data?
RDF (Resource Description Framework) Data Model - a graph model where records take the form of 3-tuples i.e., subject-predicate-object or entity-attribute-value
RDF Data Serialization Formats - (X)HTML+RDFa, Turtle, N3, TriX, RDF/XML, and others
RDF Data Item Identity - is HTTP URI based
RDF is inherently schema-last and self-describing
Linked Data - application of RDF model where records identifiers, fields, and optionally field values, are endowed with HTTP scheme URIs whether instance data (ABox) or data dictionary data (TBox)
Linked Data enables follow-your-nose traversal of RDF data records where every record identifier, field, or field value is a data pathway
The Linked Data Landscape
Core vocabularies - common terms facilitate integration:

FOAF for Personal Profile
SIOC for Social Networking
Dublin Core for Bibliography
GoodRelations for eCommerce
Geonames

Domain specific vocabularies for all verticals:
Dbpedia, OpenCYC, Yago, SUMO, Geonames etc. define URIs for talking about almost any well known real world entity or class of entities.
The Linked Open Data Cloud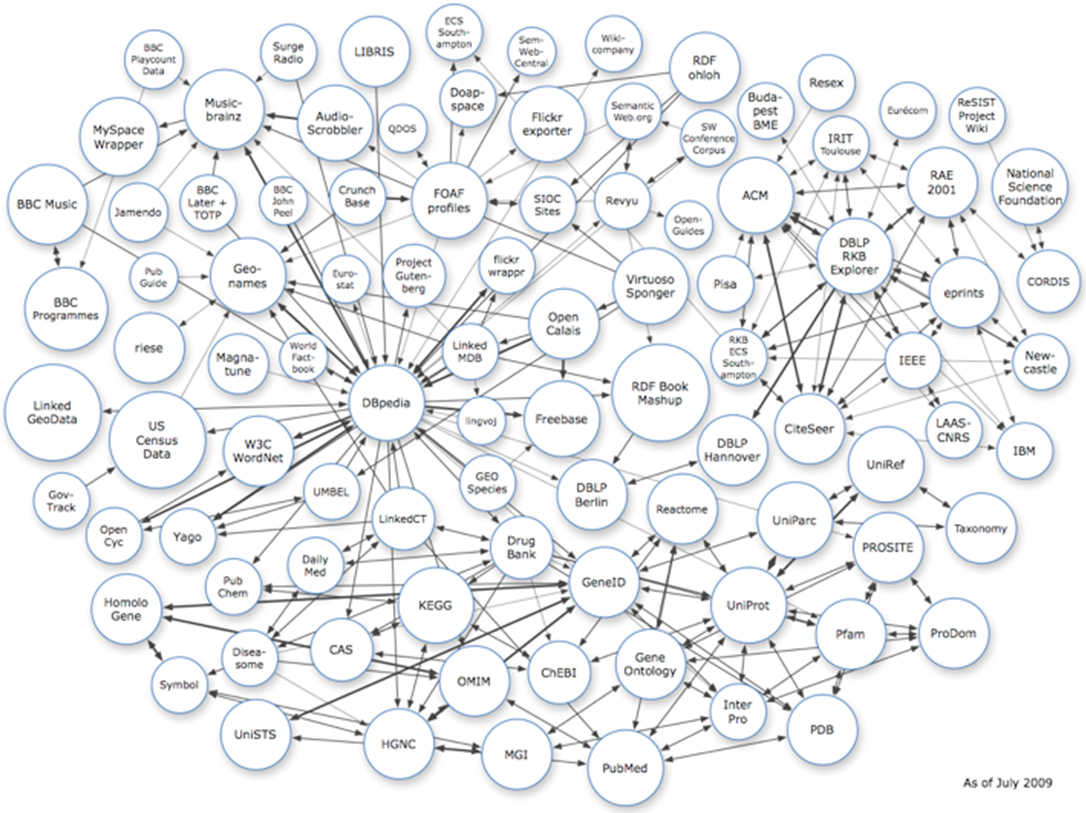 What Linked Data Offers for Data Integration
In RDF, all things have a single-part global HTTP based Identifier: Anything can join with anything else through its URI.Many people will use a different identifier for the same thing.
Whether two things can be considered the same depends on context. OWL sameAs is a generic way of stating identity co-reference.Literal values can be tagged by type or language, allowing explicit representation of units of measure etc.RDF Triples are contained in Named Graphs. The graph usually denotes provenance, and it has a URI, about which further statements can be made
RDF vs. Relational
When the data is ragged and highly heterogenous, with schema last needs, use RDF and Linked Data
The more different sources of data, the more you will need RDF and Linked Data
If data is highly regular and uniform, relational offers higher performance: Application specific indices are faster than putting everything in a generic index scheme
Incentives for Publishing
If one is on the web, one is there in order to be found
Publishing data in standard vocabularies allows applications to mesh data from many Web-addressable Data Spaces (e.g. Pages)
In the end, Linked Data will enhance the end user experience by added serendipitous discovery and increased relevance
Models for Publishing
Linked data is usually published in large dumps which have a release cycle
Any relational database's contents can be published as linked data through generating RDF on demand via a relational to RDF schema mapping
Whether one generates RDF on demand or ETLs RDBs as RDF depends on use case
If one publishes data - whether as a product, for promotion, or regulatory compliance - RDF/Linked Data is attractive because of a critical mass of
reusable terms
and a ready base of technology. As more data is published, the link density increases, leading to more novel ways of
deriving value
from the data.
Use Case: CRM and MIS
At OpenLink internal IT, all CRM, Support, Blogs, Wikis available as linked data
Interactive drill down from products to support tickets to customers to docs, etc.
Currently working on projects about exposing enterprise CRM as linked data
Use Case: The Neurocommons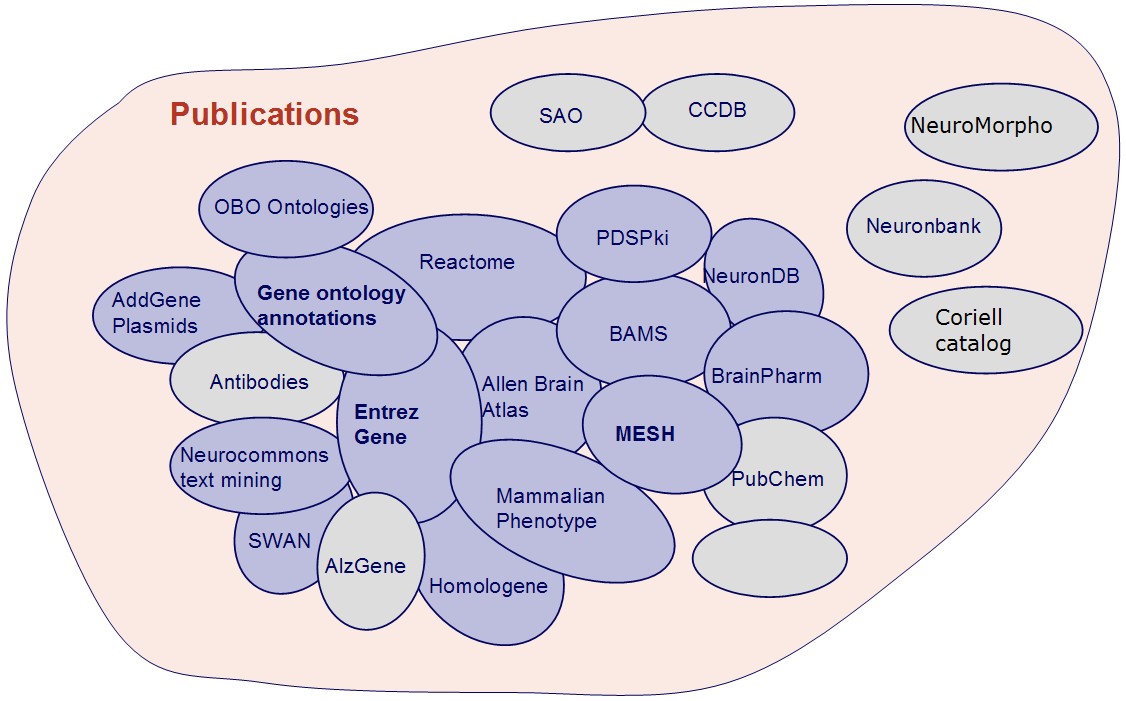 Bio2RDF - some of the larger datasets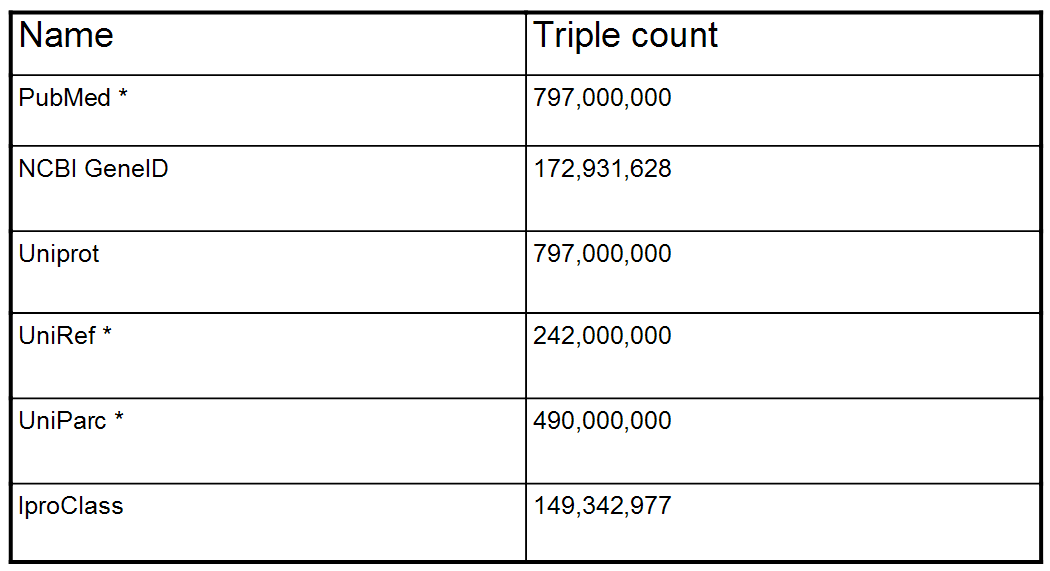 Use Case: BBC Programs and Music Service
Data Harvested via Sitemap and Web Crawling 20M Triples
Integrated to Last.FM, Dbpedia, Musicbrainz: See what any of these has to say about an artist of work.
Use Case: Linked Open Data Cloud Service
Dbpedia, Freebase, Geodata, Neurocommons, Bio2RDF, Govtrack, US Census, RKB Explorer
Pingthesemanticweb, Good Relations and more
Entity Ranks
Full Text, SPARQL, Faceted Browsing
7.59 billion triples
The Generations of the Web
Web 1.0 - Publishing for all
Web 2.0 - User generated content, mashups, the citizen journalist
Linked Data Web - Big data, integration and analytics for all.